It is our pleasure to provide a feature gourmet breakfast each morning.
Some of our favorites feature entrees are: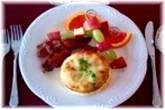 Mushroom, Shrimp and Island Cheddar Quiche: Individually made and browned to perfection this light and filling favourite is served with Island home fries (or toast).
or
Eggs Benedict: An old favourite made with Island eggs.
or
Garden Frittata: This delectable egg dish is made with sauteed mushrooms, zucchini, and green onions and topped with bacon and parmesan cheese, then baked to a golden brown. Superb!
or
4 Cheese Omelet; Almond Coconut Waffles; French Toast; Blueberry Pancakes (made with Island wild blueberries).
and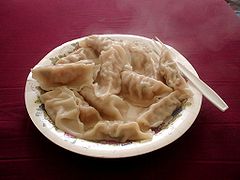 PotStickers! (guo-tie dumplings). with certain entrees Wei will serve homemade steamed/fried dumplings. Get ready for a culinary delight!
We cater to individual specific tastes, dietary concerns and allergies. We serve home baked cinammon rolls, pumpkin bread and banana bread with selected entrees. We are also well stocked with assorted cold cereals for those needing their Fruit Loop fix. Each breakfast comes with a selection of yogurt, fresh Island fruit, fruit juices, and your choice of coffee or tea. (Tea, coffee and hot chocolate are available 24 hours at our guest coffee bar).